San Diego Race Will Decide New Leadership For California's Deadliest Jail System
The next sheriff will inherit dangerous jail conditions after the previous one resigned under a cloud of scandals.
Kelly Davis | June 1, 2022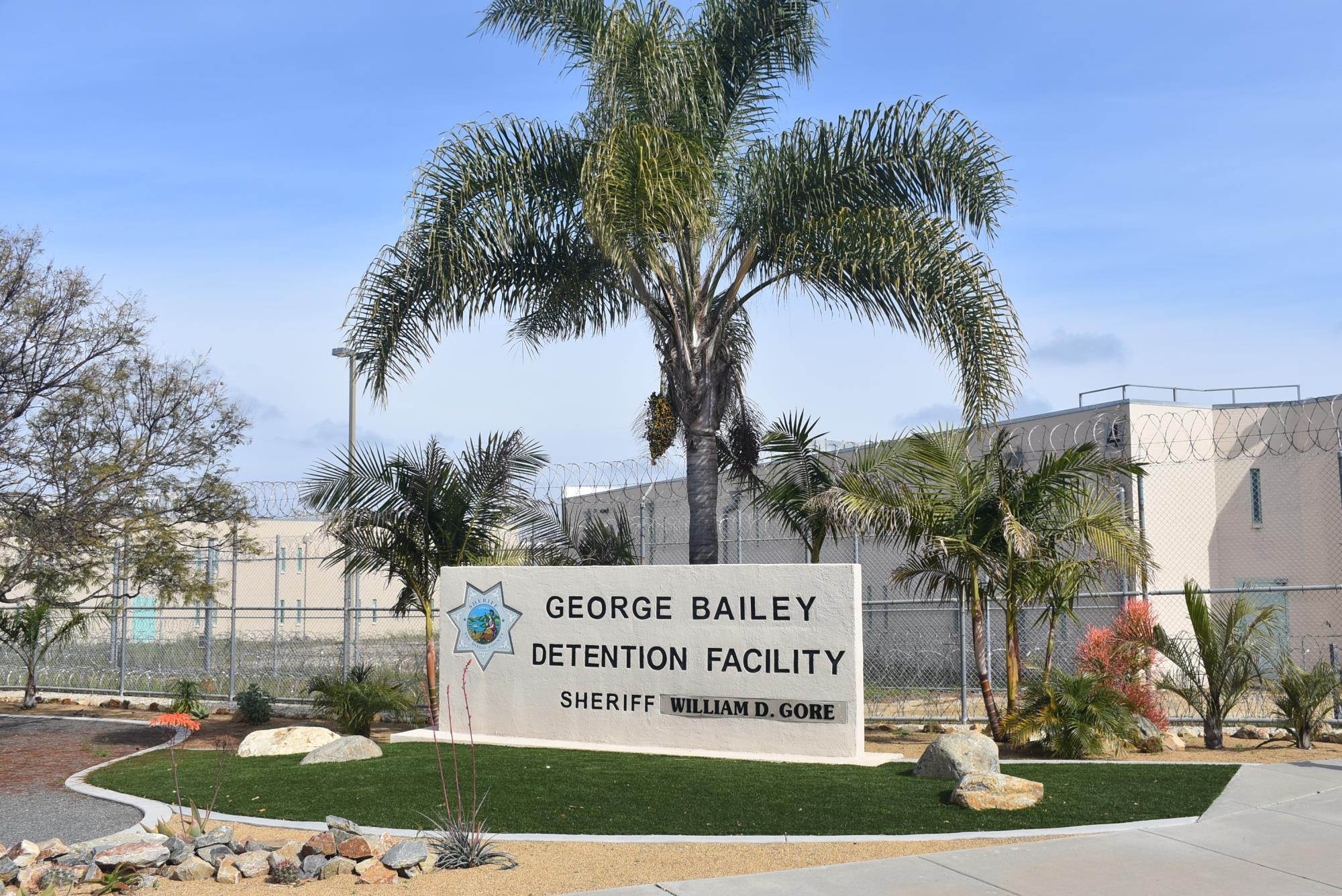 This is the third in our series on California sheriff departments leading up to the June 7 elections, alongside stories on Los Angeles and Alameda counties.
On his last day in office early this year, San Diego County Sheriff Bill Gore received a scathing indictment from state auditors about deadly conditions inside the local jails he'd operated for more than a decade. The audit, which found that jail deaths in San Diego County were among the highest in the state, concluded that inadequate treatment and monitoring for detainees with mental illness or other health problems "likely contributed to in-custody deaths."
In a letter released February 3, California Auditor Michael Tilden urged the governor and state lawmakers to intervene, saying that neither the local sheriff's department nor the citizen-governed board tasked with monitoring it had adequately investigated deaths at the jail or taken corrective action to prevent more from occurring.
"In light of the ongoing risk to inmate safety, the Sheriff's Department's inadequate response to deaths, and the lack of effective independent oversight, we believe that the Legislature must take action to ensure that the Sheriff's Department implements meaningful changes," Tilden wrote in his letter.
Any future attempts to force jail reforms in San Diego will dovetail with new leadership at the sheriff's department. And due to the string of scandals and deaths on Gore's watch, dangerous jail conditions have become an unusually prominent issue as a crowded field of candidates run to replace him in San Diego's local elections on June 7. All three frontrunners have pledged to make the local jails safer and reduce deaths, but they are bringing vastly different commitments to the table. Pointing to the loss of life, The San Diego Union-Tribune's editorial board recently called this sheriff's race "the most consequential local election on the June 7 ballot."
Michele Deitch, director of the Prison and Jail Innovation Lab at the University of Texas at Austin's LBJ School of Public Affairs, says it was high time for deeper political scrutiny of local jails.
"Increased media attention to jails in recent years has led to greater public awareness of high rates of deaths, suicides, crowding, violence, and the spread of COVID, among other problems," Deitch told Bolts. "And the public has also started to realize how many people, especially poor people of color and people with mental health challenges, are being held there unnecessarily simply because they can't make bail or because there are no mental health beds in the community."
"There are public health implications and cost implications to what happens in our local jails," Deitch added. "It's become increasingly clear that jails are a part of our community, not apart from them."
Eighteen people died in San Diego jails last year, compared to 16 people who died while incarcerated in New York City's notorious jail system—a much larger one that has made headlines for squalid and deadly conditions. Ten people have died in the custody of San Diego jails so far this year.
The spate of deaths in 2021 led to at least two lawsuits and other families are now exploring legal action. On May 24, the family of Lester Daniel Marroquin, referred to as "Danny" by his family, sued the sheriff's department for moving the 35-year-old into solitary confinement after he'd repeatedly attempted suicide. Less than two hours after being transferred, he was dead from water intoxication.
"Mr. Marroquin should have been in a safety cell on May 30, 2021," the lawsuit says. "At a minimum, he should have been in Enhanced Observation Housing"—a unit for people at risk of suicide—"with safety checks conducted at least every fifteen minutes."
Gore announced his retirement in January, amid mounting multi million-dollar legal settlements paid out by the county to resolve lawsuits by grieving families of people who died in his jails. Days after Gore stepped down in February, a team of civil rights attorneys filed a class-action lawsuit asking a federal court to force the sheriff's department to make a series of changes aimed at improving care for incarcerated people with mental illness and physical disabilities. In April, a study commissioned by the county's Citizens' Law Enforcement Review Board echoed the state auditor's conclusions, as well as that of a six-month investigation by the Union-Tribune: San Diego jails had the highest mortality rate among California's large jail systems.
Undersheriff Kelly Martinez, who has worked in the department for more than three decades and is now a frontrunner in the race to replace Gore, acknowledges that the sheriff's department needs to change—just not so much that it rankles the powerful Deputy Sheriffs' Association of San Diego County, which is supporting her campaign along with more than a dozen prominent local lawmakers. A recent internal survey by the association shows that members think the county has swung too far to the left—"Marxist" was used multiple times in survey responses — and that local leaders are too soft on crime. And a recent ad by the deputies association attacking one of Martinez's leading opponents, former sheriff's commander Dave Myers, drew criticism for showing Myers' skin slowly darkening as he morphs into a demon.
Martinez was part of the department's leadership team that quibbled with the methodology of the recent blistering state audit, but she has also pledged to implement the state's recommendations—such as having a mental health clinician present during the jail intake process to evaluate detainees and creating a better system for tracking and responding to requests for medical attention. Martinez has also beefed up the department's open data portal and vowed to address plummeting morale among jail workers and a staffing crunch that has forced mandatory overtime shifts.
"This is probably the toughest time in the 37 years that I've been on the department," Martinez said in an interview with Bolts. "But I see a path forward. We have the right priorities and we have a path in place and we have the right Board of Supervisors that's funding all of the things that we need to do."
Martinez insisted that she is not her predecessor. "I'm very different in my approach and my style," she said. "I'm just a different person. I don't want to be judged by who other sheriffs were. I want to be judged by who I am and the leadership that I bring."
Gore's tenure was marked by a cloud of other scandals in addition to a high jail mortality rate. He staunchly defended a sheriff's captain who was investigated for illegal gun sales and later sent to prison. Under Gore, multiple deputies were convicted of sexual misconduct; one of them, Richard Fischer, was also involved in the suffocation death of a young father whose family won an $85 million jury verdict in March. Another deputy, Jaylen Fleer, pleaded guilty to sexually assaulting four underage girls. Last October, a jury found deputy Earle Yamamoto guilty of rape and child molestation. And, last fall, Gore was featured in a controversial video that claimed a deputy had overdosed on fentanyl after touching the drug—something that experts say is impossible.
Martinez, who changed her voter registration from Republican to Democrat last year, has many high-profile Democratic supporters in her corner but failed to win the support of the San Diego County Democratic Party.
Instead, the local Democratic Party decided at a December party meeting to endorse Myers. The county's Democratic party chair, Will Rodriguez-Kennedy, described Myers as "an opportunity to reform and improve our department."
In an interview, Myers called the current jail population "unmanageable" and said the department doesn't have enough staffing or expertise to adequately care for the number of people with high-level health care needs who end up detained. "That's why we're getting the record-high deaths, because you're not paying attention to illness, to mental health needs," he told Bolts. "We're seeing zero accountability when it comes to who we book into jail."
Despite his 35-year career with the sheriff's department, Myers is seen as an outsider candidate. He's openly gay and pulls no punches condemning his former employer on social media, blaming jail deaths in the county on "failed leadership."
Myers said the first thing he would do if elected is study the available data on jail deaths in the county and look for ways to better care for vulnerable populations in lockup. He also pointed to the sheriff's current $1.1 billion annual budget and suggested some of that funding should be used to prevent people from landing in jail in the first place. "Instead of paying, on average, a hundred grand a year for one person in custody, let's spend $20,000 to $30,000 a year on long-term drug treatment or mental health beds in the community run by professionals," he said.
Myers has also committed to making investigations into jail deaths more transparent. Currently, the department issues a press release with minimal information, and family members of people who have died in jail say the only way to find out what happened to their loved one is to file a lawsuit.
"I think that we should, as much as we can, without jeopardizing the case, be very transparent," Myers said. "I don't know why law enforcement can't be more transparent with information and investigative reports with those outside of the agency."
Another leading candidate in the sheriff's race, John Hemmerling, a Republican, told Bolts that he would not have run if Gore had sought a fourth term as sheriff—although Hemmerling did say he's been troubled by media reports on jail conditions. In an interview, he said he would address problems at the jail by pushing for more diversion programs.
But Hemmerling also criticized Prop. 47, the 2014 initiative that reduced low-level theft and drug felonies to misdemeanors to keep people out of California's overcrowded prisons, arguing that people wind up in jail because there are fewer ways to force them into treatment through the criminal legal system with programs like drug courts. "You really can't do a carrot-and-stick model as much anymore because the way the laws are changed in California," he said.
The Union-Tribune's left-leaning editorial board, which has been highly critical of Gore, initially endorsed Hemmerling before yanking its endorsement in late May. The paper had praised Hemmerling, who has a military background that included overseeing a large jail in Iraq, for bringing "an outsider's perspective" to the department. But it retracted its support after audio emerged of Hemmerling of disparaging a non-discrimination ordinance recently passed by the county's board of supervisors that was inclusive of transgender women and telling voters he would fight against Democratic officials who had "redefined what a woman is." While Hemmerling remains in the race, he stepped down from his position as head of the San Diego City Attorney's Office's criminal prosecution unit after City Attorney Mara Elliott condemned his remarks, calling them "disturbing" and not reflective of the values her office works to uphold.
San Diego's jails have also been accused of violating the rights of transgender women. Last November, a trans woman filed a lawsuit against the county and sheriff's department accusing guards of placing her in a cell with men who attacked her, fracturing her jaw. When asked about his comments about trans women, Hemmerling told Bolts via email that he believes "every individual should be treated with dignity and respect, including respect for their gender identity."
Problems similar to San Diego's plague local lockups around the country, including poor medical care and inadequate monitoring of suicidal detainees, leading to preventable tragedies. Other sheriff races are on the ballot in California next week in populous counties like Alameda and Los Angeles, where dangerous jail conditions are also front-and-center.
But Aaron Fischer, an attorney who has been involved in litigation over jails conditions in several counties, recently told The San Diego Union-Tribune that the county's jails were among the worst he's seen.
San Diego jails, he said, "stand on their own in the level of mistreatment of people and the sheer awfulness of the conditions … It's a system that has been resistant to necessary and urgent changes, even as other jurisdictions recognize the need and have begun to act."