California AG Ends San Francisco's First Prosecution for an On-Duty Police Killing 
Rob Bonta, who campaigned on holding police accountable, this week declined to pick up the charges dropped by DA Brooke Jenkins after she succeeded Chesa Boudin last year.
Piper French | May 19, 2023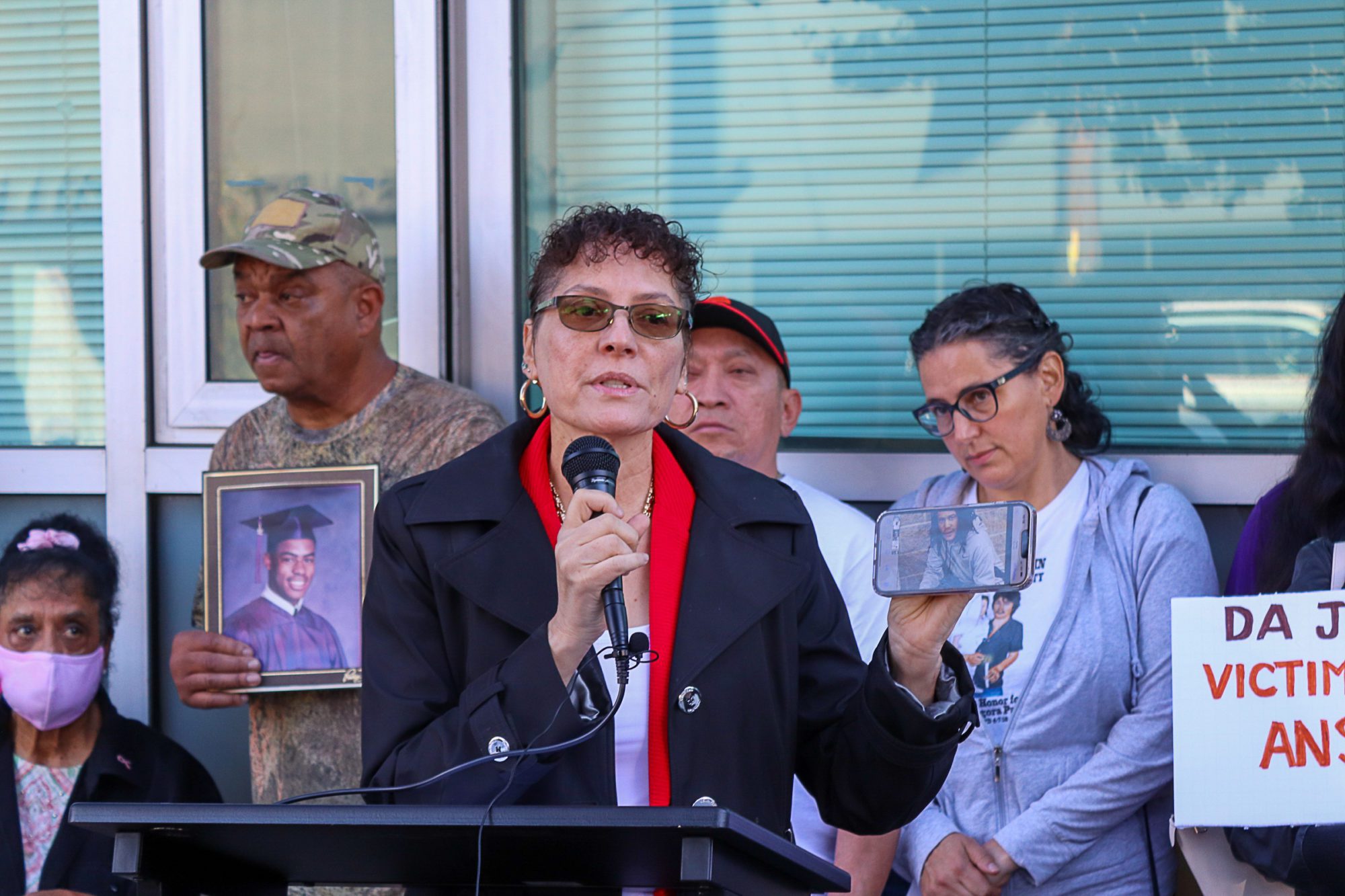 California Attorney General Rob Bonta has said he will not take over a high-profile police killing case from the San Francisco District Attorney's office, putting an end to the first known prosecution of an on-duty police officer for killing a civilian in San Francisco history. In a letter to the DA's office, Bonta writes that the assault, manslaughter and gross negligence charges against Officer Christopher Samayoa, who shot Keita O'Neil, an unarmed Black man, in 2017, "cannot be proved beyond a reasonable doubt." 
"It's just heartbreaking to me," April Green, O'Neil's aunt, told Bolts. "He just gave free will to shoot [to] any officer that feels any kind of fear — he's not going to prosecute."
For years now, O'Neil's family has been caught between San Francisco's shifting politics around prosecution and police accountability. George Gascón, who was district attorney when the killing happened, declined to prosecute Samayoa, but after Chesa Boudin took over the office, he announced that he would be charging the officer. Boudin, who heralded the prosecution of Samayoa as "historic," had sought to expand and bolster the Independent Investigations Bureau (IIB), a division of his office dedicated to investigating and prosecuting police brutality.
But Bolts reported last year that, after Boudin was recalled by voters and replaced by Brooke Jenkins, the new DA quickly fired or demoted the IIB's lawyers and installed a deputy who lambasted the work done under Boudin.
Jenkins, who won a special election last November to fill the remainder of Boudin's term, announced in February that she was dismissing the case against Samayoa because she believed Boudin had brought it "for political reasons and not in the interests of justice."
The overhaul of the IIB under Jenkins has alarmed families of people killed by San Francisco police who believed that they might see justice under Boudin's IIB. Her actions since then have confirmed their worst fears.
Sean Moore was an unarmed Black man who was shot by police in 2017 while suffering a mental health episode in his own home. (His death, three years later, was determined to be the direct result of his wounds). According to Emily Lee, the co-director of the progressive group San Francisco Rising, who has been supporting Moore's family, Jenkins' office has continued to decline to object whenever the defense requests delays in the case, and last month chose to turn over Moore's medical records to the defense, which she was not required to do. (Jenkins' spokesperson has not responded to a request for comment as of publication).
"The Moore family has been very skeptical that you know, is the DA really representing their family, or are they actually supporting the defense?" Lee said. After Cleo Moore, Sean's elderly mother, made a "personal plea" to the judge during an April 28 court date the judge scheduled a date to set a preliminary hearing, where the relevant evidence in the case would be made public for the first time.
When Boudin was recalled last year, his IIB was on the verge of pursuing charges against officers for the 2016 police killing of Luis Góngora Pat, an unhoused Mayan Mexican man; police claimed he was threatening them with a knife, but multiple eyewitnesses reported that he was sitting on the ground and far from officers when they started shooting—first with bean bag rounds, and then real bullets. Adriana Camerena, a family friend and advocate for the Góngora Pat family, told Bolts that they have heard nothing from the office since Jenkins won the special election. "No reach out. No interest. No care," she said.
Recently, Jenkins also announced that she would not be pursuing charges against the Walgreens security guard who shot and killed Banko Brown, provoking outrage from many community members who saw a throughline between the case and the DA's dithering on the police prosecutions.
While in the state legislature, Bonta supported efforts to increase police accountability, including a bill that requires the AG's office to take over investigations of unarmed civilians. He said at his confirmation hearing in 2021 that he would take greater action to hold police accountable.
"If not these elected officials, then who is willing to actually say to the public that police, security officers, armed vigilantes cannot kill unarmed black men?" Lee told Bolts. "And I just don't think we have an answer for that question, because so far we have not seen any accountability for the violence that was perpetrated against Keita O'Neil, Sean Moore, Banko Brown."
Bonta's office responded to a request for comment by directing Bolts back to his letter declining to take the case.
The stalling of cases against San Francisco officers who killed people highlights why such cases are rarely prosecuted, as well as how even officials who outwardly champion police accountability can still justify alarming individual acts. Bonta's memo echoed many of the same reasons that Gascón's office initially declined to charge Samayoa, who was a probationary officer on his fourth day of the job in 2017 when he fired through the window of his vehicle, killing O'Neil, who was suspected of carjacking and had led police on a chase, but was unarmed.
In his memo, Bonta writes that Samayoa, who was later fired by the department for his actions, had participated in a simulation "eerily similar" to the O'Neil shooting just three weeks earlier, in which "suspects" exiting their car during a routine traffic stop immediately fired at Samayoa, hitting him in the head with a paintball. Bonta pointed to the exercise in concluding that Samayoa shooting O'Neil "was reasonable given his training and experience."
Green had urged Bonta to pick up the case after Jenkins dropped it and is now alarmed by what his refusal signals. "What is this message?" Green asked, saying that Bonta "just opened the door up" for any officer to use the artificial situations they're put in as a routine aspect of their training as justification for killing someone.
Green has said she has been fighting for her sister, O'Neil's mother, who has dementia but still remembers the loss of her son. When asked if she had told her sister about Bonta's decision, Green responded immediately: "No and I never will."
"I'm not going to have her relive it," she said.