States Move to Halt the Death Penalty
California imposes a moratorium on capital punishment and the New Hampshire House votes to abolish it.
Daniel Nichanian | March 14, 2019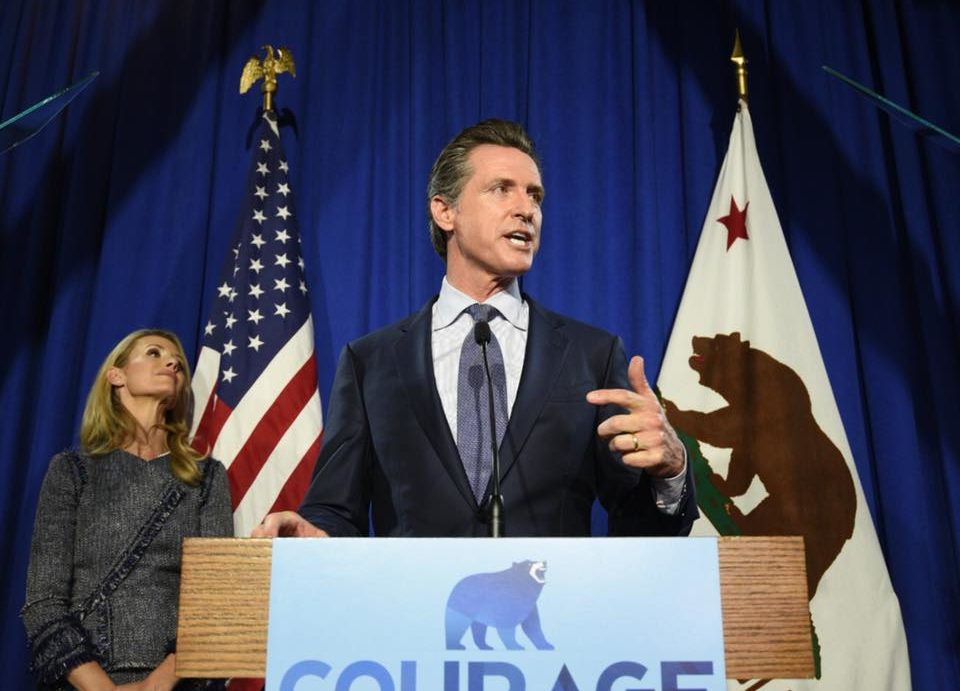 This article originally appeared on The Appeal, which hosted The Political Report project.
Opponents of the death penalty got a boost in New Hampshire last week when the state House backed its abolition by an overwhelming vote of 279 to 88. That number represents more than two-thirds of the lower-chamber's 400 members.
The New Hampshire legislature already adopted a bill abolishing the death penalty in 2018, but neither legislative chamber had a supermajority in favor of repeal when Governor John Sununu, a Republican, vetoed it. But that changed in the 2018 elections, in part thanks to a Democratic surge. (The bill cuts across partisan lines, but Democrats have been likelier to support it.) Only 223 representatives voted for abolition in 2018, but the 279 who did so last week would be enough to override a new Sununu veto unless they change their mind in coming months.
The bill now moves to the 16-member Senate. I reported in November that abolition proponents most likely seized a supermajority in the 2018 elections. Three Republican senators who had voted to keep the death penalty were replaced with Democratic senators who support its abolition.
John-Michael Dumais, campaign director of the New Hampshire Coalition to Abolish the Death Penalty, told me in November that passing this bill would be "one more arrow in the quiver" of those who argue that the death penalty "doesn't conform to our evolving standards of decency." Might opponents of the death penalty also gain quivers elsewhere in the country this year?
New Hampshire's House is one of three legislative chambers that have voted to abolish the death penalty so far this year, the others being the Wyoming House and the Washington Senate. The abolition effort ultimately fell short in Wyoming last month, but Washington's legislation is still alive and was referred to the House Public Safety Committee after passing the Senate. A spokesperson for Representative Roger Goodman, the committee chairperson, told me that Goodman plans to hold a hearing on the bill on March 25. Also this month: A repeal bill cleared a Colorado subcommittee; New York lawmakers proposed scrubbing the death penalty from state law; and legislation was filed in Oregon (where the death penalty cannot be outright abolished via regular legislation) to significantly and retroactively shrink the category of crimes it covers.
And in California, Governor Gavin Newsom announced Wednesday that he would impose a moratorium on the death penalty via executive action.
"I do not believe that a civilized society can claim to be a leader in the world as long as its government continues to sanction the premeditated and discriminatory execution of its people," he said. He pointed to the risk of executing innocent people, and denounced racial disparities in the death penalty's use. Of the 737 individuals on California's death row, six in ten are people of color. Newsom's order does not commute anyone's sentence, though he said he may still do so, nor does it abolish the death penalty, a move that can be accomplished only through a referendum. Californians narrowly voted to keep the death penalty in 2012 and 2016; in 2016, they also voted in favor of a proposition to speed up executions. The earliest that a new abolition referendum could be organized is 2020.
California joins Colorado, Oregon, and Pennsylvania as the states where executions are halted because of a gubernatorial moratorium. The Marshall Project's Ken Armstrong wrote in 2015 that governors have used remarkably similar arguments in halting executions.
However, in at least two states lawmakers are moving forward with legislation to either facilitate or reinstate the death penalty.
This week, the Arkansas Senate overwhelmingly approved legislation (Senate Bill 464) to shroud the state's death penalty process in secrecy and make it a felony punishable by up to six years in prison to "recklessly" identify the makers of drugs used for an execution. In an article in the Daily Appeal about this bill, Sarah Lustbader wrote that "if the stigma of producing tools for execution is so great that no drug manufacturing company will put its name on the product, that should tell us … that executions are beyond the pale."
In Iowa, a bill to reinstate the death penalty made it out of the Senate Judiciary Committee last week, becoming eligible for full debate. Majority Leader Jack Whitver can now decide whether to call a full debate, which would be a first since 1995; Whitver did not respond to a request for comment as to his views on the legislation. Eight of the 10 Republicans on the committee voted in favor of Senate File 296; all Democrats opposed it. The GOP controls both legislative chambers, and Republican Governor Kim Reynolds has expressed openness to such legislation in the past.