Oregon Stalls Effort to Allow Voting from Prison
A bill to end felony disenfranchisement is running out of time this year, in a state that casts itself as a voting rights pioneer.
Alex Zielinski | February 15, 2022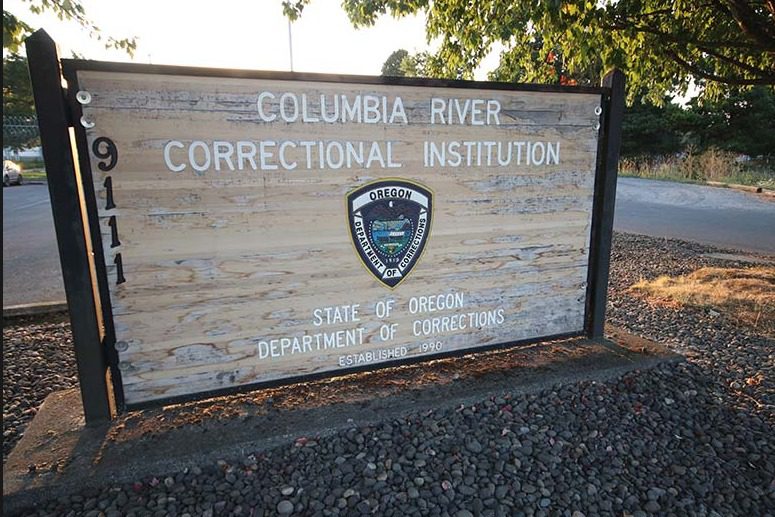 This article was produced as a collaboration between Bolts and Portland Mercury.
Anthony Pickens' best memories from his 24 years in Oregon prisons involve voting. From the mock presidential elections held every four years to the elaborate campaigns he ran to win leadership roles in prison clubs, Pickens' experience with the democratic system behind bars brought entertainment, exhilaration, and a sense of community to an otherwise bleak environment.
But Pickens' vote didn't count outside prison walls because Oregon, like nearly every other state in the country, bans people imprisoned for felony convictions from voting while incarcerated. In recent years, advocates for ending felony disenfranchisement have pushed for Oregon, a state on the vanguard for policies expanding voting access, to abandon the practice and become a rare state to enable all U.S. citizens to vote. Yet lawmakers have effectively declared a proposal to extend voting rights to the nearly 12,000 people currently incarcerated in Oregon prisons dead-on-arrival at the legislature this year. Despite a strong base of support for the bill from Democratic party officials, including the secretary of state, resistance from Oregon's GOP leaders and anxiety over upcoming state-level elections appear to have again killed prison voting in a state that seemed primed to lead on the issue.
Pickens, who began lobbying for voting rights while incarcerated and continued after his release from prison last October, said it's disappointing that the issue remains so intractable. "A lot of the laws being passed by lawmakers directly impacted us and our families and the communities we planned on returning to," Pickens said. "We are still citizens of the country regardless of being incarcerated."
House Bill 4147, which Democratic lawmakers introduced in Salem late last month, would allow people in prisons to register to vote and vote by mail—as is standard across Oregon—with their ballot counted in the last county they called home before their sentencing. The bill mirrors a proposal that died in committee last year after representatives from Oregon Department of Corrections argued the law would hamper mailroom operations inside the state prison system. Oregon Republicans quickly decried this year's bill as more evidence of "Democrats' shameful pro-criminal agenda."
The prison-voting bill now seems to have little chance of advancing before the end of Oregon's 35-day session, which began February 1. Hannah Kurowski, a spokesperson for Oregon's House Democratic Caucus, wouldn't discuss HB 4147 except to say that it likely won't get a committee hearing this year.
Elona Wilson, director of Oregon voting rights advocacy group Next Up, accused the state's Democrats of being too afraid to debate the issue. "We just went through redistricting [in Oregon], and folks are scared of certain seats being lost," Wilson said. "We must push the Democrats who have the power in the legislature to find their bravery in doing the right thing. Fear has played a huge role in the history of this legislation and it's on us to overcome it."
State felony disenfranchisement laws were largely a product of racism tied to the extension of voting rights to Black Americans after the Civil War. Much like poll taxes and literacy tests for voters, prison disenfranchisement was one of many tools states used to prevent Black voters from casting a ballot.
"Disenfranchisement was not designed to make communities safer or to punish people who break the law," said Zach ​​Winston, a policy director with the Oregon Justice Resource Center (OJRC). "It was about the systematic exclusion of Americans in elections based on race."
The racist legacy of felony disenfranchisement continues today: A 2020 study by the Sentencing Project found that over 6 percent of the US's entire Black population is prohibited from voting due to their felony conviction, compared to less than 2 percent of the country's non-Black population. That disparity is also reflected in Oregon's prisons, where 9 percent of the state's incarcerated population is Black, despite Black people only making up 2 percent of the state's total population.
Oregon is one of 48 states with felony disenfranchisement laws on the books, however those laws vary from state to state. People convicted of felonies in some states are barred from voting until they leave prison, while other states prohibit people from casting a ballot until they finish probation. In some states, people with a felony conviction lose their voting rights for life, leading to staggering rates of exclusion of up to 10 percent in Mississippi. Oregon is one of the 20 states that already allow anyone who is not presently incarcerated to vote, a number that soared in recent years as a wave of Democratic-run states like California, Washington, and New Jersey, took the step of restoring people's voting rights upon their release from prison.
But only two states, Vermont and Maine, also allow people to vote while they are incarcerated. They have never disenfranchised residents over a criminal conviction, so people incarcerated there do not lose the right to vote. While incarcerated, they can vote at their last place of residence via mail-in ballots. (It should be noted that both states have the highest percentage of white residents in the country.) In 2020, the District of Columbia joined those two states and completely ended felony disenfranchisement with a landmark law that restored voting rights to people in prison.
Keeda Haynes, voting rights campaign strategist for the Sentencing Project, said Oregon seemed poised to join those three jurisdictions—and technically be the first state to abolish an existing disenfranchisement statute—when lawmakers first proposed it last year. But Republicans in the legislature derailed the conversation with concerns about staffing costs and fears of empowering convicted criminals. Haynes says she heard myriad reasons why lawmakers weren't comfortable with prison voting, all of which felt more emotional than practical. "It often comes down to, 'We don't want people convicted of murder and rape voting,'" Haynes said. "But there's no explanation why. Other than that, the argument is mostly, 'It just doesn't feel good.'"
Efforts to enable incarcerated people to vote have grown in recent years, especially after people in numerous prisons launched a coordinated strike in 2018, demanding better treatment—and, in some places, the right to vote. Sympathetic lawmakers filed a number of bills to get there in recent years, including in Hawaii, Massachusetts, and Virginia, but none passed other than in the District of Columbia. In 2022, there are active bills to this effect in at least Oregon, Illinois and New York. Haynes said, whichever state passes it first, it will undoubtedly empower other states to move forward with similar legislation. "There is a national push for this," she said. "The US is at a point where we are looking at ways to strengthen our democracy. This is one way we can do that—and Oregon has the opportunity to lead the way."
Oregon's Secretary of State Shemia Fagan, who oversees the state's election system, has expressly supported HB 4147, as has Multnomah County District Attorney Mike Schmidt, who represents prosecutors in the state's most populous county. Portland Democrat Sen. Kayse Jama, a co-sponsor of HB 4147, says ending felony disenfranchisement is in line with Oregon's history of trailblazing voting rights policies. Oregon became the first state to vote entirely by mail in a presidential election in 2000, a trend that has been picked up by at least seven other states (and emulated by many more during 2020's pandemic-hampered election). In 2015, Oregon passed a first-in-the-nation automatic voter registration law, a system that has now been adopted in 21 other states.
"Oregon is known to be a leader in making democracy accessible," Jama said. "This [legislation] is just another way of us taking the lead in the nation. I would hope my colleagues share those values."
Not in 2022, it appears. No Oregon Republican has come forward in support of HB 4741 after their leadership condemned the bill. Kurowski, with the House Democratic Caucus, suggested the legislation would have better luck next year, when Oregon will hold its longer, 160-day session, saying, "Oregonians take voter enfranchisement very seriously and it's an issue that merits further discussion." OJRC's Winston believes that Oregon's upcoming primary elections for state legislators are partially to blame for the inaction this year. "In an election year, certain things are harder to pass," he said. "But this is a civil rights issue and everyone should see it as a priority."
Winston, who also served time in prison, said allowing people to vote while incarcerated is key to their rehabilitation process. "It's so important to be connected to your community when you're in prison," he said. "Voting helps rehabilitate a person by allowing them to take responsibility in their communities. That's what we should be supporting."
After being released from prison in October 2021, Pickens was hired as a paralegal for OJRC. He shared Winston's thinking about the role voting plays in rehabilitation."When you're involved in the community, when you're able to make decisions on things that have personally affected your life, you feel like you belong to something," Pickens said. "If you don't feel like you belong to something there's a good chance you won't tend to it or care for it. Which is how a lot of people feel when they leave prison."
Pickens has yet to vote in an election since leaving prison last year, but he filled out his voter registration card as soon as it landed in his mailbox. "I really can't wait," he said. "Having the ability to be involved in your own democracy is redemptive work."