How Public Transit, State Reform, and DA Practices Can Counter Driver's License Suspensions
While Durham pursues an initiative to reinstate licenses, a Duke University decision sets back the mobility of local residents.
Daniel Nichanian | April 4, 2019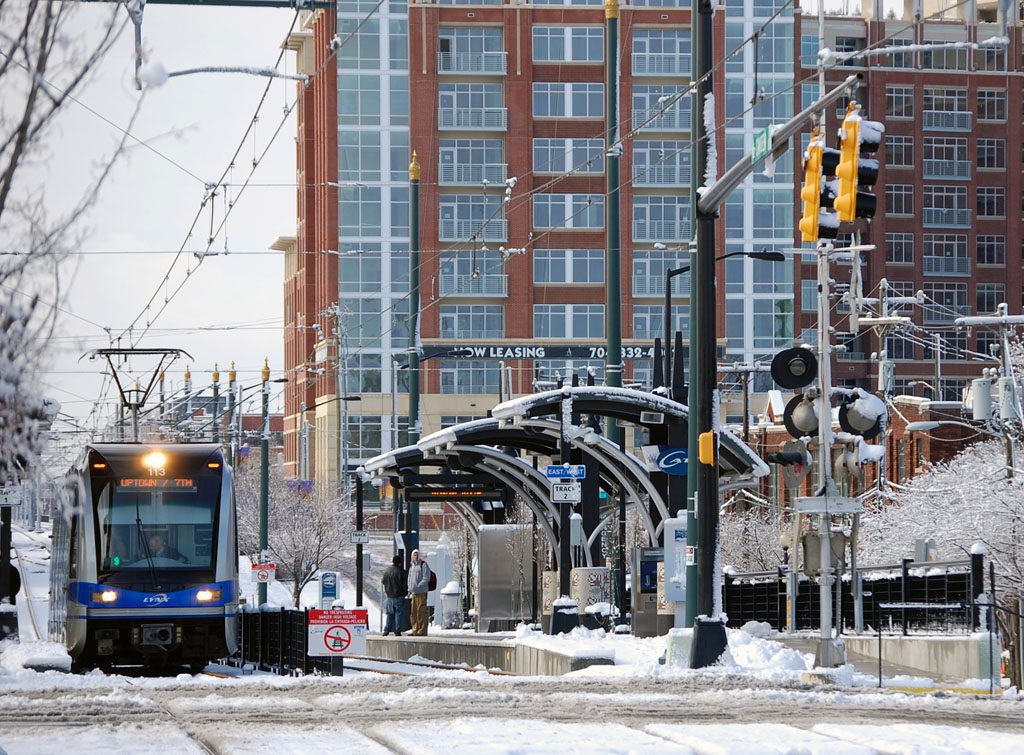 This article originally appeared on The Appeal, which hosted The Political Report project.
North Carolina indefinitely revokes the driver's licenses of people who fail to pay court fees and traffic fines. The state does not take into account one's financial ability, nor does it typically provide notice of alternatives.
A new paper by Brandon Garrett and William Crozier of the Duke University School of Law finds that more than 1.2 million North Carolinians have lost their licenses for "non-driving related reasons" such as not paying fees and fines. Their paper also documents racial disparities in these revocations. "Poverty functions differently for whites than it does for blacks," they write. This finding is in line with studies that show that fines and fees—and their myriad outsize consequences—are disproportionately imposed on African Americans.
Losing one's license can trigger further economic hardships and mounting legal if not carceral problems, most notably for people who keep on driving after losing their license since they would otherwise be unable to go to work or simply move about.
This is true everywhere, and all the more so in areas with poor public transit. In North Carolina, the latter is aggravated by significant legislative cuts to transit funding, and by the behavior of wealthy actors like Duke University, which just sank a light rail project that was long in the works.
To regain their license, North Carolinians must pay fees in addition to the original debt, which may itself stem from poverty-related violations such as a lapsed registration. But payments are harder to make when mobility is impaired and alternatives lacking. "Many, many, many jobs in America are inaccessible to people who don't drive," Angie Schmitt, who writes on transportation policy for Streetsblog USA, told me via email. License revocations "can trap otherwise willing workers in a cycle of dependency and repeated incarceration."
One North Carolinian who asked to be relieved from fees he could not afford wrote in his lawsuit that the loss of his license meant that he would "have to forgo the truck driving training school, and job placement," or else "illegally drive and risk violating his supervised release and going back to prison." A judge dismissed the case in March. Another case still stands, however. Johnson v. Jessup, a class-action lawsuit, went to trial in March and is now in the hands of U.S. District Judge Thomas Schroeder.
Durham is taking action this year through its Second Chance Driving Project, an initiative supported by the Durham Expunction and Restoration Program (DEAR), local officials, and organizations such as the North Carolina Justice Center.
Sarah Willets's feature in Indy Week details the program's "unprecedented scale." Durham County District Attorney Satana Deberry has cleared tens of thousands of traffic cases this year, and she has separately asked courts to clear thousands of fines and fees that are more than two years old. Parts of this initiative were launched under Deberry's predecessor, Roger Echols. The program will result in thousands of county residents regaining their eligibility to have a license, though informing them of this is yet another challenge.
This initiative utilizes reform avenues that state law already grants to counties, and Willets writes that DEAR hopes its initiative will function as a model for other jurisdictions.
States can also altogether end the practice of revoking licenses due to nonpayment of fines and fees. Mississippi's Department of Public Safety announced such a reform in 2017, and Maine's legislature followed suit last year. In Illinois and Montana, bills that would restrict the practice have each advanced one legislative chamber. Willets found no active effort to do this in North Carolina as of March.
Even in the absence of legislation, initiatives to expand public transit—when done with an eye toward equity goals—can assist the housing, employment, and legal outlook of people whose ability to drive has been restricted.
They can also help all people move across their region. Poor transportation, whether it stems from difficulties in acquiring a car or accessing transit, harms the reentry of many people involved in the criminal legal system, independently of whether they are eligible to have a driver's license. This prospect showcases the pernicious nature of ideas like a New York proposal to ban people from using the subway for life if they have been convicted of certain offenses.
"We need to be providing better transit options everywhere," Schmitt said, even as she emphasized this could not replace reform to stop license suspensions for non-driving related reasons. "And Durham is a great example of a place with poor transit options."
Durham seemed on its way to improving this aspect of the problem as well with its light rail project. Local officials, in conjunction with those of neighboring Orange County, had agreed to increase county funding after the state budget was cut, and they talked about linking people to jobs and housing; advocates were demanding additional access to affordable housing and jobs as part of this development. But Duke's announcement cut these conversations short and fatally wounded the project. Residents held protests against Duke this week.
Such failures to expand public transit, as well as failures to design projects in ways that improve equality, are missed opportunities to help disentangle people from the criminal legal system's cycle of penalties.
"I think access to transit and affordable transportation is critical to combat poverty and the collateral consequences of being justice involved," Wendy Jacobs, who leads the Durham County Board of Commissioners and who last month called Duke's decision "devastating," told me via email. "Transportation means freedom, freedom to access opportunities … If you do not have this, then you are severely limited to what [you] have access to in life whether it is jobs, education, healthcare, healthy food, etc."
"We will need to find a new path toward equitable access to housing, jobs and transportation because these urgent needs remain," Jacobs added, referencing light rail's demise.