Abortion Prosecutions May Hang in the Balance in Maricopa County Election
The chief prosecutor in Arizona's largest county says she would prosecute abortions if Roe falls. But a special election looms this year.
Meg O'Connor | May 27, 2022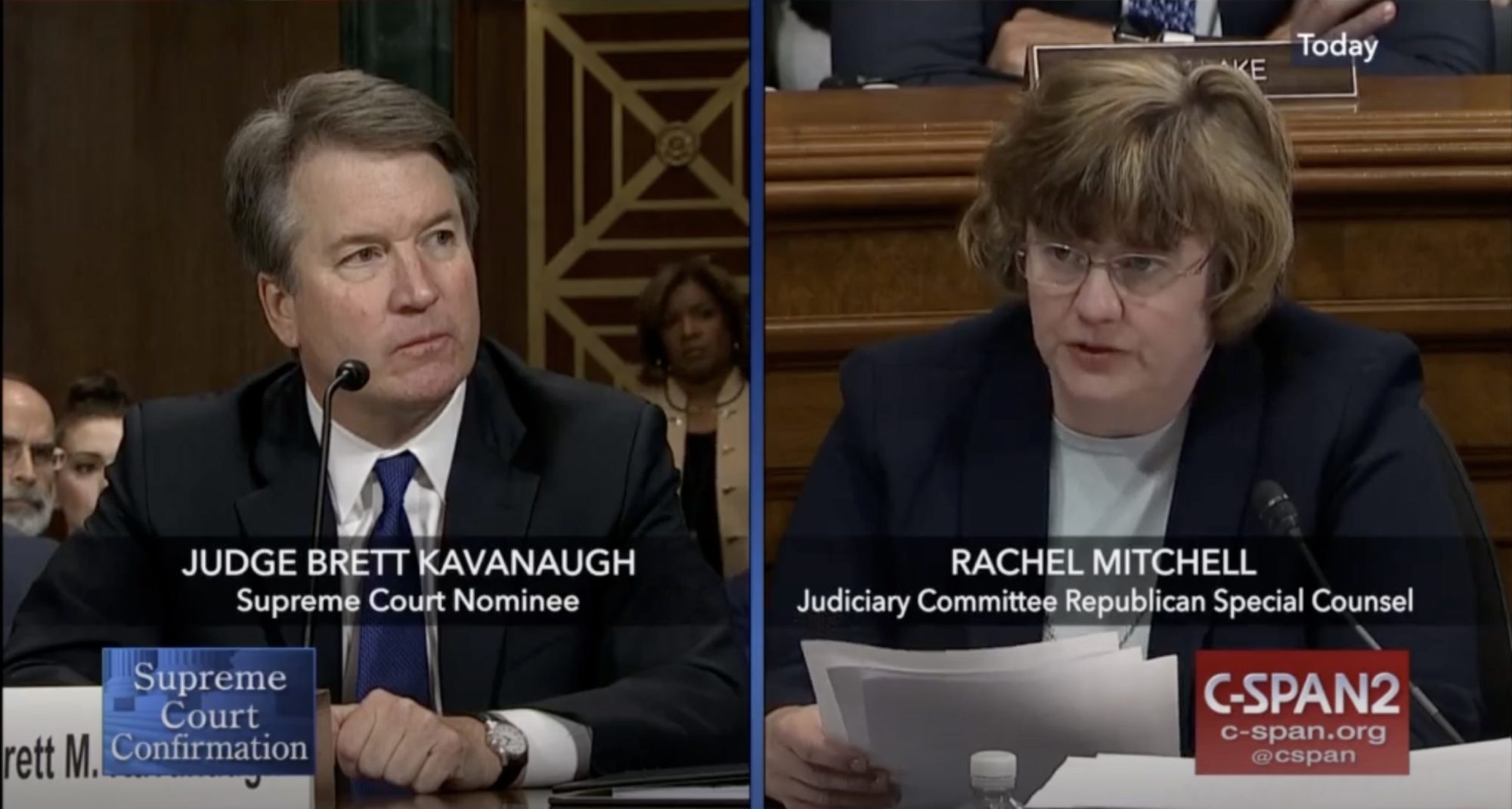 This article is a collaboration between The Appeal and Bolts.
Rachel Mitchell, the prosecutor famed for her role in Brett Kavanaugh's Supreme Court confirmation hearings, may soon be prosecuting abortions. Four years after questioning Christine Blasey Ford on behalf of Senate Republicans, Mitchell is now the chief prosecutor for the nation's fourth most populous county—and Kavanaugh could soon hand her the power to criminalize reproductive rights.
According to a leaked opinion, the U.S. Supreme Court's conservative majority is poised to overturn Roe v. Wade in the coming weeks. Arizona is one of many states with a "trigger" law that would criminalize abortion if Roe falls. As interim Maricopa County attorney, Mitchell is in charge of prosecutions in a county that is home to Phoenix and 4.5 million residents, putting her on the front lines of enforcement. She has said she will bring criminal charges under the state's anti-abortion statutes if the Court greenlights them.
But a special election later this year may cut Mitchell's tenure short and shift the local policies on abortion in a county that is home to the majority of Arizona's population.
Julie Gunnigle, the only Democrat running in this prosecutor's race, has promised not to prosecute abortion cases if she is elected in November. "As Maricopa County attorney I will never prosecute a patient, a provider, or a family for choosing to have an abortion or any other reproductive decision," she told The Appeal and Bolts. "Not now, not ever."
This is a stance Gunnigle also took in the 2020 race for Maricopa County attorney, which she very narrowly lost to Republican incumbent Allister Adel. But Adel resigned earlier this year, amid a series of scandals, and the county government appointed Mitchell to replace her. Adel's resignation has triggered the special election to fill the remaining two years of her term. To get to the general election, Mitchell must first win an August primary against Gina Godbehere, who shares Mitchell's views on abortion.
Arizona has passed plenty of anti-abortion laws in recent years. Earlier this year, the state adopted a ban on abortions after 15 weeks that is similar to a Mississippi law currently under review by the U.S. Supreme Court. Even if the Court does not overturn Roe v. Wade, it may still affirm the Mississippi law—a somewhat narrower step reportedly favored by Chief Justice John Roberts that would still amount to a drastic new restriction on access to abortion in Arizona.
Such a decision would open the door to Mitchell and other Arizona prosecutors bringing cases against abortion providers. Arizona's 15-week ban, which goes into effect in September, states that any doctor who performs an abortion after 15 weeks can be prosecuted for committing a Class 6 felony and can have their medical license suspended or revoked. People who obtain abortions would not be prosecuted under this law, which makes no exceptions for rape or incest.
In 2020, physicians in Arizona performed 636 abortions after 15 weeks, according to a report from the state's Department of Health Services.
If Roe falls entirely, a complicated patchwork of laws and court rulings will take effect. For one, the state has a full abortion ban on the books that dates back to 1864 and could trigger into effect if Roe is overturned. That one-sentence law stipulates that anyone who provides an abortion can be sentenced to two to five years in prison (except in cases of medical emergencies).
However, there is some uncertainty over how promptly that ban would apply if the court overturns Roe v. Wade.
"While Arizona has pre-Roe criminal laws on its books, they are currently enjoined and therefore would not immediately take effect if Roe v. Wade is overturned," Brittany Fonteno, president and CEO of Planned Parenthood of Arizona, told The Appeal and Bolts via email. "A court would have to issue an order lifting the injunction on these laws."
Perhaps most aggressively, Arizona adopted a sweeping anti-abortion law in 2021 that, among other clauses, established so-called "fetal personhood." That provision grants "an unborn child at every stage of development all rights, privileges, and immunities available to other persons, citizens, and residents" of Arizona. If Roe falls, abortion-rights organizitations have warned that "fetal personhood" clauses could give prosecutors the ability to charge abortions as anything from civil-rights violations to homicides, given that a fetus at any stage of development in Arizona is now legally considered a "person."
Arizona Republicans, who control the legislature and governor's office, may also take new steps to further criminalize abortion.
"If Roe is overturned, we expect that anti-abortion politicians will continue working to make abortion inaccessible in Arizona," Fonteno said.
—
The impending U.S. Supreme Court decision has significantly raised the stakes in the race for top prosecutor in Arizona's most populous county.
"Having these people elected and holding this much power over perpetuating harm to our communities is really scary," said Eloisa Lopez, executive director of the Abortion Fund of Arizona.
She stressed, for instance, that many people who seek abortion care are already parents. "We are looking at a future of criminalizing parents, putting them in prison, stripping them away from their existing families, and those people will probably be funneled into child protective services."
Lopez added that it would make a difference if county attorneys instructed their staff to hold off on prosecuting abortion. "These prosecutors are one of those few lines of defense against the criminalization of pregnancy outcomes," she said.
In Arizona's second largest county, Pima County Attorney Laura Conover has already drawn such a line in the sand. She tweeted earlier this month that her office will "do everything in our power to ensure that no person seeking or assisting in an abortion will spend a night in jail."
Another Arizona prosecutor, Coconino County Attorney Bill Ring, told The Appeal and Bolts that he thinks the state's 15-week ban is too "vague and illusory" to be enforceable, though he only said he was "unlikely" to actively prosecute under it.
Two of Arizona's nine abortion clinics are in Pima County. One is in Coconino. The other six are in Maricopa.
Mitchell, Maricopa's new prosecutor, has worked in the county attorney's office for almost 30 years. A self-proclaimed "pro-life" conservative who supports the death penalty, Mitchell is known nationally for her role in Kavanaugh's 2018 confirmation hearing, when Republican lawmakers tapped her to question both Kavanaugh and Ford on their behalf. Many former prosecutors admonished Mitchell for getting involved in a partisan political process and making misleading and disingenuous statements after the hearing.
Asked whether she would prosecute people who provide or obtain abortions if the Supreme Court allows it, Mitchell confirmed to The Appeal and Bolts that she would, reiterating a stance she has taken elsewhere.
"As County Attorney, I follow the law," she said in a written statement. She added that she may use her discretion to not prosecute cases that involve incest. "I've sat across from a young girl who became pregnant through incest," she said. "I will not treat victims as criminals, and I will ensure that cases prosecuted by my office meet the charging standard of a likelihood of conviction at trial."
The only other Republican in the race, Godbehere, did not respond to a request for comment. But Godbehere, who has also spent the better part of her career working for the Maricopa County Attorney's Office and is running with the endorsement of several police unions, has largely echoed Mitchell's views on the issue.
Speaking on a local radio show last month, Godbehere said that Gunnigle's stance on abortion prosecutions should disqualify her from the office and that prosecutors cannot "disregard a whole category of offenses because you believe that your opinion is better than the legislature's or the voters' of our community." Mitchell mirrored that language in her statement to The Appeal and Bolts. "Anyone who refuses to uphold the law based on their personal beliefs is unfit to hold office and a danger to democracy," she said.
Gunnigle contends that Mitchell and Godbehere are denying the discretion that they already exercise as prosecutors. "It's clear that my opponents don't understand the role that they're applying for," Gunnigle said. "Every single day the role of the county attorney is to go in and decide which cases to prosecute." She added, "I find statements like that to be incredibly disingenuous, particularly when the office right now only charges about half of the cases, and the county attorney right now is picking which cases to prosecute."
Defenders of Gunnigle's take on prosecutorial discretion point out that there are crimes that even conservative prosecutors choose not to prosecute. Eli Savit, a prosecutor in Michigan, recently told Bolts that adultery is still a criminal offense in his state, but "not a single prosecutor is spending any time and any resources prosecuting people for cheating on their spouses." Adultery is also a criminal offense in Arizona.
Complicating matters further in Arizona is that the state's attorney general may try to override county attorneys who choose not to prosecute abortion. Some states, like Michigan, allow the attorney general to prosecute criminal cases.
Arizona law outlines several specific criminal offenses attorney generals may prosecute. Abortion is not one of them. But it is possible that an attorney general could use a creative interpretation that stretches the meaning of other criminal offenses, as prosecutors are wont to do, in order to go after abortion providers.
"I think there's definitely the possibility of a legal showdown and asking the court to interpret what this really means," Gunnigle said about the attorney general's role. "I will fight tooth and nail to make sure the integrity of this office isn't sacrificed and doesn't become beholden to the attorney general's office."
Arizona voters will elect a new attorney general this year, and abortion access has already emerged as a major fault line in that race. Kris Mayes, the sole Democratic candidate, has said she would encourage state courts to block new anti-abortion rules, and she has ruled out prosecuting abortion cases if elected.
But several of the Republican candidates have expressed elation at the thought of Roe being overturned, and some, like Rodney Glassman, have said they will "vigorously" defend anti-abortion laws as attorney general. Another Republican candidate, former prosecutor Abraham Hamadeh, called abortion "murder" and said he is running for attorney general to "stand up for the most vulnerable." All six Republican candidates in the race are anti-abortion.
Regardless of who's in office, a ruling against abortion by the U.S. Supreme Court in the coming weeks, coupled with the state's laws, would create rapid legal and criminal liabilities for people across Arizona.
"These bans won't stop abortion," said Lopez, of the Abortion Fund of Arizona. "They will just make it dangerous and unsafe for people. We're going to see maternal mortality increase, infant mortality increase. There will be more abuse of children. Pregnant people will be criminalized. There will be more family separation. There will be many long-term harms in our community."