Los Angeles Voters Ousted Their Sheriff—and Then Just Kept Going
Alex Villanueva lost re-election, one in a series of victories for local organizers seeking accountability from the sheriff's office and alternatives to policing and punishment.
Piper French | November 18, 2022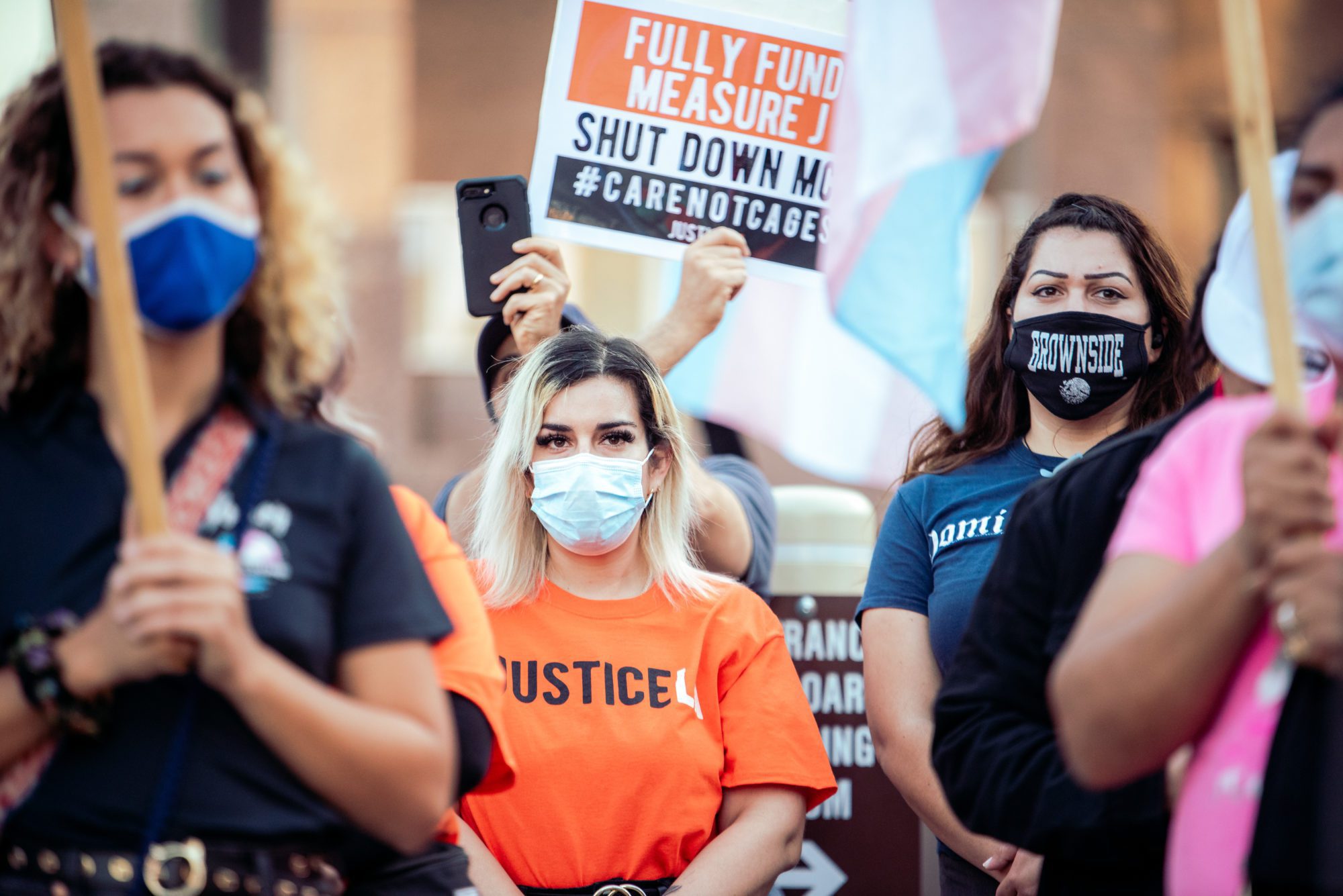 Voters last week took every opportunity at their disposal to challenge the scandal-ridden Los Angeles County's sheriff department and demand change.
Angelenos ousted Alex Villanueva, a first-term sheriff dubbed the "Trump of LA" who fashioned himself as local reformers' chief antagonist; Villanueva lost by twenty-one percentage points to Robert Luna, the former Long Beach police chief who pledged to reform a department that faces a mountain of abuse allegations. They also approved a ballot measure to allow the County Board of Supervisors to remove any sitting sheriff from power for cause, illustrating a growing skepticism toward the office itself. And they have likely chosen Lindsey Horvath, a West Hollywood council member who has championed alternatives to policing and incarceration, as their next District 3 supervisor over her opponent, Bob Hertzberg, a centrist Democrat who was endorsed by the union that represents sheriff's deputies.
These outcomes represent the latest in a series of victories for local organizers who have sought to rein in the power of the sheriff and transition Los Angeles away from policing and punishment and toward services. "The community has shown in these last election cycles that they want more accountability over the systems that are imposed on them," said Ivette Alé-Ferlito, the executive director of La Defensa and former coordinator of Justice LA, the coalition behind many of these wins. In 2020 alone, LA County voters already enshrined greater sheriff oversight and approved Measure J, which would redirect hundreds of millions of dollars from the department into community services.
But policy changes haven't always followed these triumphs at the ballot box. Two years after its passage, Measure J has yet to be implemented. Shutting down LA's notorious and decrepit Men's Central Jail, which Alé-Ferlito called "a money pit for the county," is becoming a marathon fight; the county's jail population recently hit a two-year high of 15,000 inhabitants, nearly half of whom haven't been convicted of the charges against them.
One immediate obstacle has been the obstruction put up by Villanueva, who has refused to obey subpoenas from the Civilian Oversight Commission, as required by an initiative passed by voters in 2020. The defeated sheriff has also crusaded against efforts at criminal justice reform in the country, including going on national television to deride reform efforts, ordering a search of the home of one of his critics, and supporting failed efforts to recall the reform-minded District Attorney George Gascón.
But local organizers stress that the issue goes far beyond any one office-holder. Though this year's Measure A may have been crafted with the unabashed defiance of a subpoena-flouting, trash-talking Villanueva in mind, its proponents highlight the fact that it will act as a check on any and all future sheriffs of LA County. "It's not just the ability to remove them for cause," said Alé-Ferlito. "It's also the threat of removal that is significant."
Most organizers in Los Angeles see Luna's victory as more of a repudiation of Villanueva than a ringing endorsement for the former Long Beach police chief. "He comes with his own baggage," said ACLU lawyer Andrés Dae Keun Kwon, who leads the Check the Sheriff Coalition that lobbied for the inclusion of Measure A on the ballot this year. During Luna's tenure, the Long Beach Police Department was far from scandal-free; the law enforcement data analysis site "Police Scorecard" gave it one of the worst scores in the entire state.
People who have lost loved ones at the hands of sheriff's deputies say they will be watching Luna closely. "We know Robert's history in Long Beach, and we're already hearing him give promises in these press conferences that Alex gave four years ago," said Stephanie Luna (no relation) on a recent livestream hosted by Justice LA. Stephanie is the aunt of Anthony Vargas, who was killed by LASD in August 2018.
Alé-Ferlito said LASD itself is plagued with problems that precede its outgoing leader. "[Villanueva's] vile rhetoric is actually ingrained in the actions of the institution itself," they said. "Ultimately, it is a tall order for [Luna] to actually bring the massive, bureaucratic, violent institution of the sheriff's department to heel."
The coalitions' focus on institutional change appears to have resonated with voters. As of publication, Measure A has 71 percent of the vote and has received about 200,000 more votes than Villanueva's challenger. "That Measure A is well outperforming Luna is testament to the fact that people are seeing that it's not just a matter of who the sheriff is," Kwon told Bolts. "We need to bring about structural change, and real meaningful checks and balances in civilian oversight and accountability."
The power to enact these policies lies largely in the hands of the county's board of supervisors. "The board, of course, continues to be one of the key decision makers,"  said Kwon, noting that when the Check the Sheriff coalition first recommended the measure a year ago, it also proposed a number of other changes the board could make, including strengthening civilian oversight and implementing a number of transparency measures. Of these, only Measure A has become a reality, though the board has taken steps to create a fund for families of people killed by the department and increase public access to LASD records.
Holly Mitchell, who was elected to the board in November 2020 after serving in the state legislature, has emerged as the board's most stalwart champion of sheriff oversight and alternatives to incarceration. Mitchell is part of a progressive bloc on the five-member board with Hilda Solis and Sheila Kuehl.
Kuehl's retirement this year opened the door to a possible end for that tenuous coalition given the support one of the candidates received from the association of sheriff's deputies. But the more progressive contender, Horvath, leads by 4.5 percentage points as of publication; while tens of thousands of ballots remain to be counted, those tabulated since Election Day have favored her.
Organizers are hopeful that Horvath's arrival would shore up the progressive majority and allow the board to take bolder action. "Her win sets us up to have more aligned elected officials on the board—but we still need to apply pressure to get that money allotted for Care First," said Janet MarLee, a member of Justice LA executive committee member Essie Justice Group.
As a council member for West Hollywood, Horvath lobbied to slightly reduce the city's contract with LASD over time and increase the presence of unarmed community responders, who are trained to de-escalate situations. She was also an early supporter of Justice LA's fight to stop two new jails from being built to replace Men's Central. "Very few political officials in seats were willing to speak up publicly against jail expansion and for alternatives—and Lindsey Horvath did just that," Alé-Ferlito said. "She has been diligent about learning the nuances of our policy work."
Recently, Justice LA has criticized the board for failing to address the jail crisis. Despite voting to begin the process of shutting down Men's Central Jail in early 2021, the board hasn't come up with a timeline to do so, and local organizers have criticized Kuehl and Solis for watering down recent reforms. Meanwhile, 55 people died inside the county penal system in 2021, whose conditions have been described by watchdogs as "barbaric" and "medieval," and which is currently reaching population levels not seen since the early days of the pandemic. A number of organizations and individuals sued the city and county this week to challenge the local bail system, faulting it for keeping people locked up based on how much they can pay rather than how much of a danger they pose to the community.
MarLee told Bolts that her 18-year-old nephew sat in jail for three years before he was sentenced. "Fighting a case inside—opposed to being free and being able to just show that you're a sustainable member of the community—is difficult, right? Because you're showing up in your jumpsuit and they're looking at it from that perspective, that he's a criminal already," she said. "7,000 out of 15,000 people are locked up in LA county jails who are pretrial, and they're there still only because they can't afford bail or they don't have access to supportive services that they need."
MarLee is also the primary caregiver for her sister, who was diagnosed with schizophrenia 20 years ago. LA's profound lack of institutional support for people with mental healthcare needs who can't afford to pay exorbitant rates for private care have left her cycling between the streets and jail. MarLee's sister would benefit greatly from the services of the Office of Diversion and Reentry, which has been extraordinarily successful in supporting people and forestalling recidivism since its creation in 2015 but has butted up against limits imposed by the LA County CEO.
Mitchell has pushed for its expansion, and the board recently voted to add over 700 mental health beds, but Alé-Ferlito said it's nowhere near enough. "We need thousands of mental health beds being built in our communities to be able to divert folks with mental health needs out of the jail system," they told Bolts, noting that the closure of Men's Central Jail, one of the movement's core demands, could free up funds to do so.
"Programs like ODR would be life changing for my family," said MarLee. "We're doing our best to take care of our family members, but we're really ready for LA County, the board of supervisors, to fund the need that we have for the 3600 beds."
Voters within the city of Los Angeles also signaled a desire to explore alternatives to policing, rejecting the mayoral bid of Rick Caruso who ran on expanding the Los Angeles Police Department, and electing Kenneth Mejia, who ran for controller on educating voters about the size of the LAPD budget. A civil rights attorney who called for reducing prosecutions lost the election for city attorney, though. In Long Beach, a mayoral candidate backed by police unions was also trailing as of publication. But debates over jail and the LASD have crystallized around the county's institutions.
Now, the ultimate test for Justice LA's vision will be moving dollars out of the carceral system and into community programs. A more solid progressive bloc on the board could also help supervisors take on the county CEO, Fesia Davenport, who is responsible for crafting the budget and whom organizers have blamed for the fact that recent budgets haven't honored the desire for transformative change reflected in voters' endorsement of Measure J. Alé-Ferlito told Bolts that Mitchell, Solis, and Horvath will "really need to be working together to hold the line on the policies that have already been passed…the board has the power to actually take back their budget and they need to have the political will to do that."
To Alé-Ferlito, this will also be the test for Luna's leadership at the sheriff's office. They aren't impressed by the reforms Luna has endorsed, including more training for deputies and mental health and substance abuse programs in jails and "on the streets," as the candidate's website says. "All those policies are a red herring to what really needs to happen," they said. "When we're looking at you know, reforming the sheriff's department, it's usually a code for 'we need more money.'"
"What the county should be doing is diverting folks with mental health needs out of the jail system and funding programs like ODR accordingly to be able to receive them," Alé-Ferlito told Bolts. "If he's willing to support the development of mental health treatment outside of his department, great. We'd love to have an advocate in the sheriff's department saying 'we need less money.'"